NFL Draft prospect Byron Jones: Baltimore is a great city (Audio)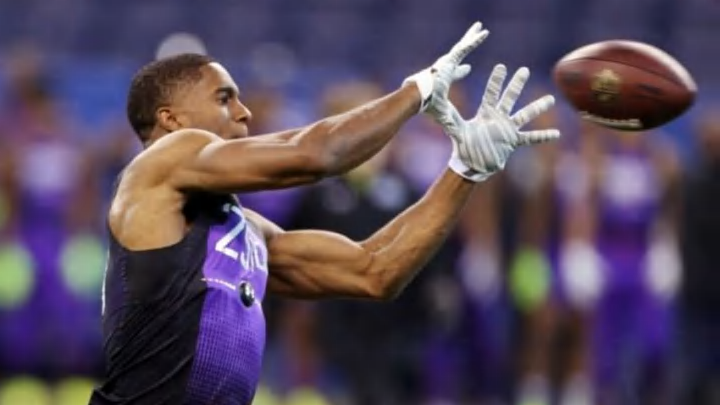 Feb 23, 2015; Indianapolis, IN, USA; Connecticut Huskies defensive back Byron Jones catches a pass in a work out drill during the 2015 NFL Combine at Lucas Oil Stadium. Mandatory Credit: Brian Spurlock-USA TODAY Sports /
UConn CB Byron Jones grew up a Baltimore Ravens fan
Next: NFL Draft: 10 Bold Predictions for 1st Round
Some mock drafts have UConn cornerback Byron Jones being selected No. 26 overall by the Baltimore Ravens. That would please Jones who grew up a Ravens fans. Jones went to many games as his family had season tickets.
Jones will be at the draft tonight in Chicago. He spoke on the eve of the draft about the crisis in Baltimore.
""It's unfortunate that the city of Baltimore is being viewed in that (negative) light. I'm from the Baltimore area and I grew up and it is a great place. I just want the world to see it for what it is.""
Jones had a very impressive combine despite working out for less than a month recovering from a labrum tear and shoulder surgery. He posted a jaw dropping 44½-inch vertical and record-setting 147-inch broad jump. His time of 3.94 seconds in the 20-yard shuttle ranked third-best overall at the combine.
Jones is versatile. He started his Connecticut college career at safety, then moved to corner his junior and senior year. He has other interests other than football too. He was a political science major and economics minor. Jones interned in Washington, D.C., with U.S. Representative Elizabeth Esty of Connecticut and trained with the George Washington University women's basketball team in the morning. Pretty impressive for someone who will in all likelihood be a first round draft pick.
Listen to Byron Jones the day before the draft in Chicago below:
More from Baltimore Ravens