TeamSPACE: The Spurs, Reloaded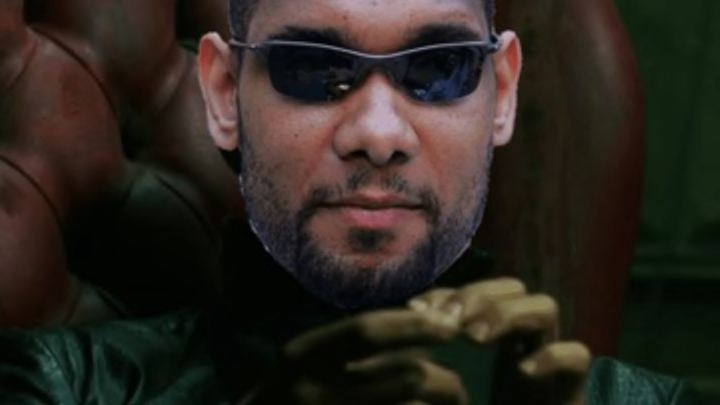 TimMorpheus /
https://twitter.com/aldridge_12/status/617366531958116352
And with that announcement the San Antonio Spurs chose the red pill this off-season, locking in LaMarcus Aldridge to a 4-year, $80 million deal. This seemingly extends the dynasty – or at least the chances of that dynasty continuing.  This seemingly puts them right at the top of the hyper-competitive Western Conference (alongside Golden State and presumably Oklahoma City).
Seemingly (and honestly, likely).
But hold on there, partner; the devil may be in some of the details. Before we crown them champs, we need to recognize that adjustments will have to be made. Given LaMarcus's status and expectations as an incoming star, this isn't the typical plug-n-play Spurs offensive acquisition. This one will likely take some potentially serious adjustments.
Let's start with the elephant in the mid-range: shot selection. I've been studying this spatial shooting stuff, which I've termed "TeamSPACE"[1. Or Hunting Grounds.] for about a year now, and if I've learned anything (which is certainly
debatable), it's that two formulas are proven winners:
Consistent, intentional, schematic overlap – lots of players shooting from the same spots
Clear, distinct areas for each player – everyone operating on their islands
That in-between stuff (affectionately labeled "Chaos!") really doesn't work. It causes lots of crowding and confusion.
Well, based on last season's shot data…we've got a bit of chaos at this point.
TeamSPACE_Spurs1516 /
I raved – endlessly, and to no avail – about the sheer beauty that was last season's Spurs most used lineup. It was poetry in motion: just the right doses of overlap in the corners, and uniqueness almost everywhere else. This potential lineup loses some of that. Assuming things remain the same (which they won't), Aldridge congests the freedom of multiple players. Specifically:
Tony Parker on the elbows
Kawhi Leonard along the baseline
Tim Duncan on the block
But here's the thing: it's fixable. We're dealing with greatness, and greatness makes adjustments. That likely means that everyone gives a little to get the offense humming. In fact, we've seen a Spurs championship team like pretty similar to this before:
2006_Spurs /
It's not a perfect match, but the tendencies are certainly there. Comparing 2006-2007 to what next season could be:
Kawhi resembles Bruce Bowen
Danny Green resembles Manu
Tony Parker resembles Tony Parker
LaMarcus resembles Tim Duncan
That last one is the most intriguing. See, it's relatively lazy to think the Spurs just swapped Tiago Splitter for LaMarcus.
bballref_aldridge_splitter /
Sure, the comparison is a little interesting; but frankly they are completely different players. The better comparison to make is between last season's Aldridge and 2006-2007 Tim Duncan. From this perspective, this is what LaMarcus should be striving for in San Antonio:
bballref_aldridge_duncan /
Notice that Duncan took 6.5 less shot attempts per 100 poss on a better field goal percentage, was better defensively, and operated in a smaller Hunting Ground footprint. However – and this is potentially big – Aldridge attempted two 3pt per 100 poss last season. He brings a diversity to this role the Spurs haven't previously had. Meanwhile, this transition slates a Past-His-Prime-But-Still-Oh-So-Very-Good Tim Duncan as the center. This is the role previously occupied by David Robinson, Rasho Nesterovic, Francisco Elson, and Splitter. Tim Duncan, at this stage of his career, can absolutely flourish in that role: his Hunting Grounds will shrink away from the elbows and cluster around the extended blocks, and he'll continue to be a defensive stalwart. The Aldridge acquisition makes this transformation exciting.
So What?
Change will come. This team is unlikely to mirror San Antonio's most recent championship team. The parts don't quite fit the same way they did two seasons ago. However, it's a good problem to have. Arguably no two Spurs championship teams have ever looked alike. That's an amazing statement, and a testament to continually innovating in a copycat league. Next season's team should be no different; expect it to borrow from key elements of the past (notably 2006-2007) while carving out a new identity. Like a fight scene from The Matrix, it may bend our minds.
---
Data and photo support provided courtesy of NBA.com, Basketball-Reference.com, and data extraordinaire Darryl Blackport.