2016-17 NBA Preview: San Antonio Spurs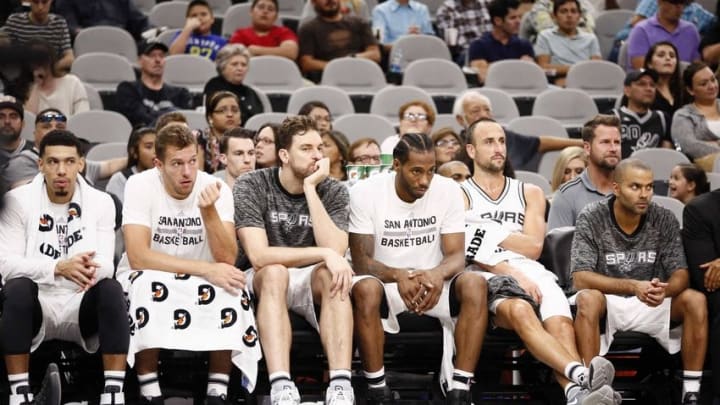 Oct 14, 2016; San Antonio, TX, USA; San Antonio Spurs players (left to right) Danny Green (14), along with David Lee (10) and Pau Gasol (16) and Kawhi Leonard (2) and Manu Ginobili (20) and Tony Parker (9) watch on the bench during the second half against the Miami Heat at AT&T Center. Mandatory Credit: Soobum Im-USA TODAY Sports /
Tim Duncan's retirement was an inevitability. It's just a consequence of time and mortality. We all knew that at some point. Sir Groundhog's Day would slip off into the expansive twilight, and the NBA would have to keep going on. Like his old mentor, David Robinson, he'll become a memory and maybe a familiar but aged face in the crowd. I just wasn't ready for it to happen.
2015-16 in review
The Spurs had one of the greatest regular seasons ever. They won 67 games with an adjusted point differential over 10 , which has been done by only nine teams in NBA history. Their defense was spectacular, allowing only 99 points per 100 possessions — over seven points better than the average team. Only 11 teams in NBA history have surpassed that mark, and Kawhi Leonard won his second Defensive Player of the Year trophy. Of course, their accomplishments were overshadowed by Golden State winning 73 games, and they bowed out in the Conference Semifinals despite their regular season brilliance.
Rotation players in: Pau Gasol, David Lee, DeWayne Dedmon.
Rotation players out: Tim Duncan, David West, Boris Diaw, Boban Marjanovic.
The change on the Spurs roster is mostly with the frontcourt. Duncan's absence is a big loss, but David West, Diaw, and Boban fled in free agency. Diaw and West were solid defenders with enough skills on offense to contribute, and they both switched between PF and C. Boban was a wrecking ball who killed opponents in the right matchups; his minutes were limited but the team will miss him running up the score against second-string centers. Pau Gasol and David Lee, meanwhile, are both disparate big men with fine offensive skills but serious blind-spots on defense.
David Lee doesn't have the lateral quickness for power forward, nor does he have the size and defensive instincts for center — he's a big net negative on defense. Pau's stats look okay, like his rim protection, but he's gotten terrible at operating in space away from the basket and opposing teams kill him on the glass, despite his defensive rebounding numbers. Dedmon, by contrast, is a rim-running shot-blocker — his background as a volleyball player makes sense — who lacks refinement on offense. If he gains the trust of the coaching staff, he could become a key contributor.
2016-17 projected
More from Nylon Calculus
The Spurs did not have a complete overhaul, but the loss of Tim Duncan and the rest of the frontcourt will irrevocably change their strengths and weaknesses. Starting with the positives, they have, potentially, more effective pick-and-roll options. David Lee and Pau Gasol are great passers too, and overall, thanks to Duncan's decline on offense, the team could actually improve on offense — or at least hold steady.
Defense, and particularly rebounding, is where they'll fall. Tim Duncan consistently was rated as an elite defender via plus-minus or on/off metrics, and his box score stats have remained strong too. All the available evidence says the team will be losing a huge chunk of value on defense. No sane person would suggest they'll replace it with Pau Gasol or even Dedmon. It's the primary reason they're going to drop several games compared to last season.
Age is another concern. Tony Parker is far from the All-Star production of his prime, and Manu Ginobili is close to retirement. Two of their new additions are older too, and guys like LaMarcus Aldridge and Danny Green are no longer young. Kawhi Leonard is their lone young starter, but due to his high shooting percentages — his three-point percentage was 44 compared to a career average of 39, for example —  and the sudden jump in his overall production, he's not expected to be any more valuable this season. For internal improvement, there's Kyle Anderson, who just turned 23, and Jonathon Simmons, an athletic shooting guard who might get a better shot in the rotation in his second year.
Projections are built on numbers, but some systems, like box-score metrics, use numbers constrained by a lack of information. Pau Gasol's defense, for instance, had career highs in defensive rebound percentage and blocks per minute, and if you squint it looked like a pretty good season on D, but it certainly was not. On the other hand, there is no better environment than the Spurs. But with his age and limited mobility, I would say there's a low ceiling on his potential improvement.
Quick graph
As you can see from the graph below, the Spurs were an above average defense every year of Duncan's career, and most years their offense was too. The 2016 Spurs, highlighted below, were a special team and one of the best defensively ever. But, uniquely, they were a great offensive team too. Overall, Tim Duncan's last team was his best team — at least in the regular season. Without his steady presence in the frontcourt, their future on defense can be questioned, but he's long since passed the torch, like David Robinson did to him, to Kawhi Leonard on that end of the court.
2017-preview-sas-ratings /
Summary
Besides a 1997 season where David Robinson was largely absent and the Spurs sorta tanked for Tim Duncan, the Spurs have had a pristine, consistent track record for two and a half decades. How well they uphold that history will depend on how their defense will respond to defenders like David Lee and Pau Gasol. It will be a different team, but there's still enough firepower and Popovich magic for them to be a top 3 team in the league.
Related Story: Nothing but Nylon: Talking 2016-17 Win Projections
Win predictions:
Mine: 58.6. A blend of several metrics, including Dredge, with a few other factors considered, like coaching.
Andrew Johnson's: 58. A combination of PT-PM (a SportVU player tracking metric) blended with RAPM. Two-time reigning champion of the APBRmetrics board predictions contest.
Nick Restifo's: 60. A simulation using BPM and RPM for player value, which includes game effects like altitude and rest.
Kevin Ferrigan's: 58. A player projection system with inputs from RAPM, BPM, height, and age.