How would we improve the Dunk Contest and 3-Point Contest?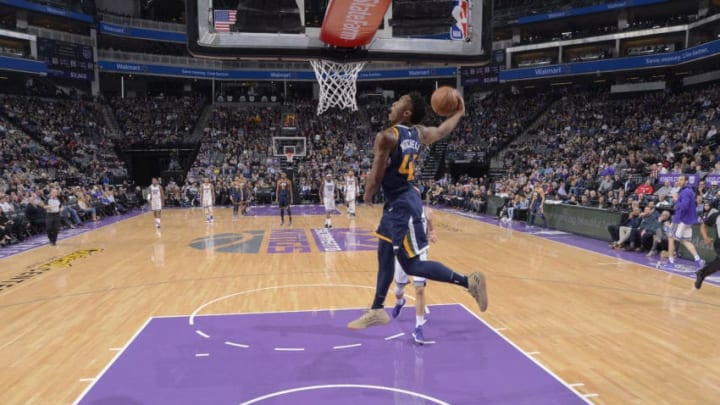 SACRAMENTO, CA - JANUARY 17: Donovan Mitchell /
On the last episode of Fastbreak Breakfast we notably ignored a lot of the news in regards to the All-Star teams and reserves. But there's no reason for us to continue to be snobs about the snubs, so we invited Joey Devine (@joeydevine) and Sean Keane (@seankeane) to break them down for our latest release.
Sean and Joey are writers and comedians and have their own NBA podcast, Roundball Rock, and as long-suffering Warriors fans they will offer no sympathy to anyone complaining about Golden State getting four All-Stars. We examine the LeBron and Steph squads, try to guess who the last picks probably were and pick who we want to see in the Dunk Contest and 3-Point Shootout.
Also covered:
Why do we actually think the All-Star player draft wasn't televised?
What mascots would we assign to Team Steph and Team LeBron?
Is there any way to correct smaller market players consistently being snubbed in favor of players in the largest cities?
The Dunk Contest undergoes minor tweaks every few years. What major tweaks could make it way more compelling?
Sean and Joey play a Game of Scones to see how well they remember former Dunk Contest participants.
Would the 3-Point Contest be improved by imposing a height minimum?
Also, unrelated to the All-Star festivities, how do we feel about the new NBA "City" jerseys? Is Miami's #Vice jersey one of the best jerseys ever, or merely pandering to those of us who remember the 80s?
All Fastbreak Breakfast episodes are also available for download on iTunes and Soundcloud.
Original music provided by Codaphonic and New Man
Was your New Year's Resolution to help financially support content creators you enjoy? You can support Fastbreak Breakfast and gain access to exclusive content and bonus features at Patreon.com/FastbreakBreakfast.
Next: Forget All-Star snubs. Let's snub the All-Stars
Get the DRAFT app and win money playing daily fantasy basketball against your friends. Get started at Draft.com/Fastbreak and get an entry to a $3 game on us.