Florida State should have won that game against Michigan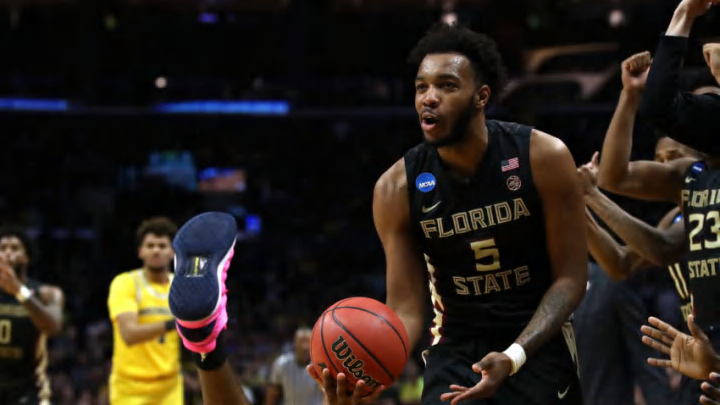 LOS ANGELES, CA - MARCH 24: PJ Savoy /
Florida State lost in the Elite Eight to Michigan, but they should have won if not for some boneheaded decisions late in the game.
Michigan is off to the Final Four for the first time since 2013, when it ran all the way to the National Championship. Talent has made Michigan one of the last teams standing, but Florida State deserves some credit too.
A handful of fatal errors by the Noles in the final two minutes of the Sunday's Elite Eight showdown helped give Michigan a win.
While everyone is focusing on the no-foul at the end of the game, Florida State did foul with over a minute left in a situation where they probably shouldn't have. Michigan was trapped in coffin corner, all the Noles had to do was continue playing lockdown defense. Instead, a foul was committed and Michigan went to the line.
Of course, that pales in comparison to the end of the game and what transpired. On the final play of the game, Florida State missed a horribly low percentage three-point shot and then decided not to foul with over ten-seconds left in the game. Duncan Robinson had the ball with plenty of time to be fouled and play the free throw game.
It's simply inexplicable that Florida State didn't foul. It would have taken a minor miracle for the Noles to win, but the effort wasn't even made to try and find out. The door was open for Florida State to potentially take destiny into their own hands, whether it would have worked out or not is irrelevant. Cards were left on the table in the Elite Eight — that cannot happen.
Noles head coach Leonard Hamilton didn't do anything to make fans feel better after the game, saying he felt it wasn't worth the trouble to foul Michigan and extend the game.
Florida State froze, there's no other way to put it. The Noles had done what few thought they could in getting to the Elite Eight, but choked under pressure. Despite the sour taste that leaves in the mouths of fans, it shouldn't erase the road traveled to get here.
Next: 28 Most Memorable Buzzer Beaters in March Madness History
Still, the way the journey ended was so aggressively bad that it's going to take a while to get over this one.