STP 500 preview: Will the snow delay shuffle the deck?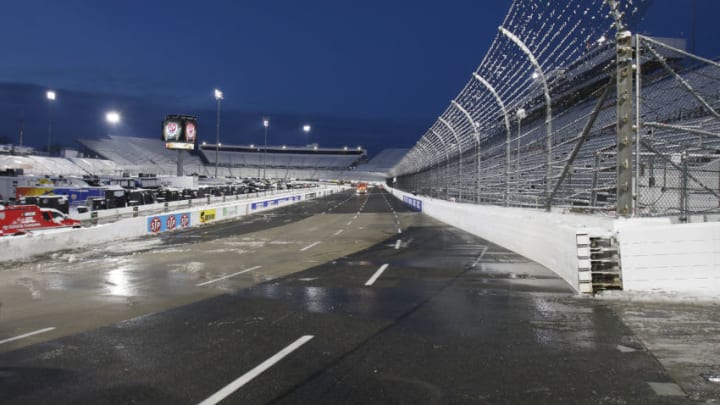 MARTINSVILLE, VA - MARCH 25: An overnight snowfall has delayed the running of the Monster Energy NASCAR Cup Series STP 500 race at the Martinsville Speedway in Martinsville, VA until Monday, March 26, 2018. (Photo by David J. Griffin/Icon Sportswire via Getty Images) /
The first short track race of the 2018 NASCAR season just became even more of a toss-up after a weather delay moved the race to Monday.
Everyone has seen that Kevin Harvick, Martin Truex Jr. and Kyle Busch have been fast on the 1- to 2-mile tracks that opened the Monster Energy NASCAR Cup Series (save for Daytona, of course). The STP 500 at Martinsville Speedway would have been an eye-opener about who looks best on short tracks regardless, but now it carries an extra layer of weather-aided intrigue.
Thanks to a storm that hit the Martinsville area Saturday evening and into the overnight hours, the Truck Series race that began the weekend was red flagged after less than 25 laps and Cup Series qualifying was rained out. Then snow fell overnight, forcing NASCAR to postpone both races until Monday.
The Cup Series teams did get two practice sessions in, but who knows what those times mean now? At least they won't have to worry about a green track, as the Alpha Energy Solutions 250 is set to resume this morning and will lay down plenty of rubber along the way.
Here's what we know: Defending Cup Series champion and current points leader Martin Truex Jr. will start the STP 500 from the pole thanks to the qualifying wash-out, trying to add a short track victory to his formidable performance darn near everywhere else. To his outside will be Kyle Busch, who's been very, very good at Martinsville over the years.
Thanks to the slow start for Hendrick Motorsports in 2018, Chase Elliott, who almost won here last fall, and Jimmie Johnson, who's only won at this track nine times, will start a lot further back. Tracking their progress should be fascinating, and in-between them and Truex lie a handful of other cars that figure to have a real shot at a win as well.
The STP 500 figured to be an interesting show regardless, but now it's almost can't miss drama for anyone who doesn't have to work on Monday afternoon. It's not going to be the race with the most packed stands or the best TV ratings, but it just could turn out to be the best on-track product of 2018 so far.
Next: STP 500 starting grid, lineup for Martinsville
Forecast
The rain and snow have moved away from Martinsville Speedway, but it could still be a chilly day for racing. Weather Channel only expects temperatures to be in the high 40s by the start of the STP 500 and not deviate much as the race goes on. There should be consistent sunshine as well, so whatever conditions are around at the beginning should be pretty much the same at the end of 500 laps.
Three things to watch
Can Truex serve up a statement with a win? It's not like Truex is trash at Martinsville or anything, as he has four top-10s in his last six races at the track, and he finished second last fall. But he's clearly not shown the same type of consistent pace-setting speed at half-mile tracks, and one has to assume Cole Pearn and the 78 bunch made that a priority in the offseason. If he can grab a win, it would really put the rest of the garage on notice that this might be a long year chasing him — again.
Can NASCAR's young guns open some eyes? It surely hasn't escaped the attention of the Busch brothers, but NASCAR's much hyped 25 and under crowd doesn't have much to show for the 2018 season so far, as Austin Dillon is the only driver under 30 with a victory. Unfortunately for them, Martinsville isn't generally the place to get right, meaning it could be up to Elliott to mount a charge and defend the honor of the young guns.
What kind of racing surface will there be? There's quite possibly more variables with the track than you'll see for almost any race this year. Rain and snow should have washed the surface clean, but the trucks will be out there laying down rubber before the STP 500. Cold temps should mean more grip, but the sun will be shining too, which tends to have the opposite effect. trying to figure out the grip level will be a headache for crew chiefs, and the first few rounds of pit stops could be key times for adjustments as it's hard to imagine many teams will nail the setup right out of the gate.
Predictions
Just like your Final Four bracket that probably got busted in the first two days, the STP 500 is arguably the race other than the restrictor plate dates most likely to have you tearing up your predictions halfway through. There's a lot of possibility for wrecks that shake up the running order, particularly with the uncertainty over the track conditions. That said, Kyle Busch seems to be in prime position to grab his first win of 2018 at a track that suits him just fine. If he can't out-race Truex at a place where he's historically been much better, expect Rowdy to be even more frustrated than he's already been.
As for a dark horse pick, don't sleep on Ryan Newman. He was fast in practice, whatever that means at this point, and has five top-10s in has last nine spring Martinsville races, including a victory. If a couple of favorites run into trouble, or strategy disrupts the field, it wouldn't be a total shock to see him sneak into contention by the end of the afternoon.