FanDuel daily picks: Fantasy basketball lineup – April 24, 2018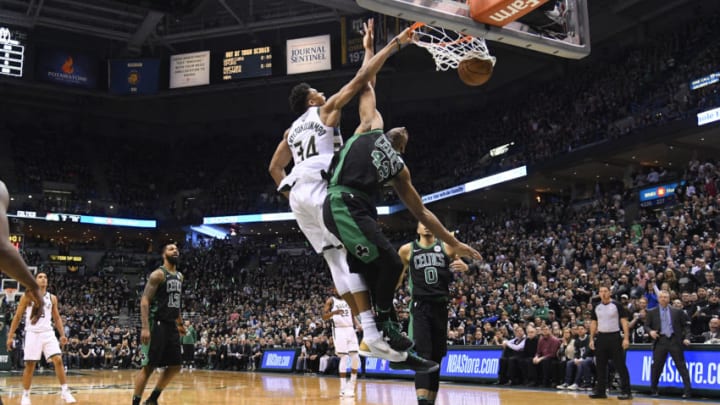 Milwaukee, WI - APRIL 22: Giannis Antetokounmpo /
Advice
Forwards are the name of the game on Tuesday. There's no big money guard to spend on outside of Khris Middleton, but even he won't kill your salary. Chances are you're going to build around Giannis, Durant, Simmons or Embiid. You can get two of those players and save on guard positions. That's what I've done in my example lineup.
Example FanDuel Daily Picks Lineup
PG: Terry Rozier
PG: Goran Dragic
SG: Marco Belinelli
SG: J.J. Redick
SF: Justise Winslow
SF: Andre Iguodala
PF: Marcus Morris
PF: Ben Simmons
C: Joel Embiid
Where to find me for daily for NBA takes, articles, videos and updates:
Twitter: @jeremylambert88, @FanSidedFantasy
Next: Tony Parker and Manu Ginobili are the winningest duo in playoff history
Explanation of the stars after each pick: Each one of my picks is ranked on a scale of one to five stars. Picks that I give five stars (∗∗∗∗∗) are players that you almost have to own and I have no reservations about owning at their price. Players that get four stars (∗∗∗∗) are players that I think are strong picks to build your roster around. Three-star players (∗∗∗) are middle-of-the-road solid picks who are fairly reliable to produce a good game. Picks receiving two stars (∗∗) are high-risk, high-reward players who do offer enough upside to be in my picks, but also have a significant risk factor that makes them dangerous. One star (∗) players are picks that are the best option around that price point, but who I don't think are great options. I would take any one-star player over any option not in my picks, but they aren't picks to build your roster around.