Is Dario Saric the perfect partner for Karl-Anthony Towns?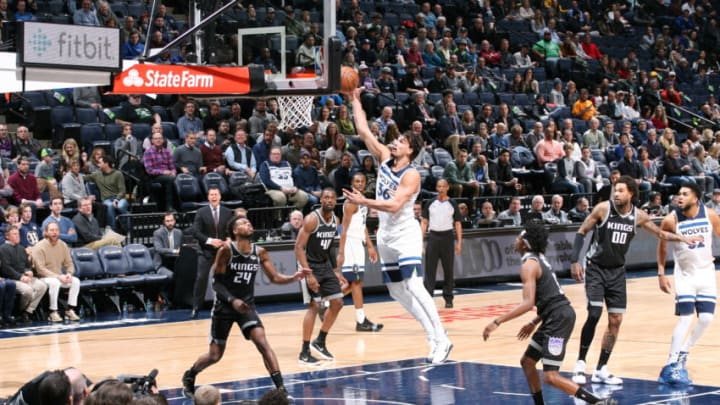 MINNEAPOLIS, MN - FEBRUARY 25: Dario Saric #36 of the Minnesota Timberwolves shoots the ball against the Sacramento Kings on February 25, 2019 at Target Center in Minneapolis, Minnesota. NOTE TO USER: User expressly acknowledges and agrees that, by downloading and or using this Photograph, user is consenting to the terms and conditions of the Getty Images License Agreement. Mandatory Copyright Notice: Copyright 2019 NBAE (Photo by David Sherman/NBAE via Getty Images) /
How seamless has Dario Saric's conversion been in Minnesota from spot-up shooter to rim-running threat?
Saric himself didn't even realize it. And yet, the numbers reflect a far more aggressive Saric since the Timberwolves acquired Saric back in November in the Jimmy Butler trade, especially since Ryan Saunders took over as Minnesota head coach in January.
"It's the first detail I'm hearing of this," Saric said, standing in the visiting locker room at Madison Square Garden following the Timberwolves' 115-104 win. "I didn't realize it. But I really try to stay aggressive. You know? Of course, new team, of course, you need some time to really get in with the guys to understand how the other guys are playing. And of course, you need some time to really hear the coaches." He smiled, pleased with the progress he didn't know he'd made. "But I didn't know, it's really interesting information for me."
Interesting for Saric, and for the Timberwolves as well, who need to determine whether the 12th overall pick back in the 2014 draft is merely an ancillary piece, or a key part of the Karl-Anthony Towns-centered build in Minnesota.
With that question in mind, Saunders added him to the starting lineup earlier this month, specifically to see just how much Saric can work off of Towns right from the start of games.
"We like the space that he gives," Saunders said following Friday night's game. "One, gives Karl, and then the attention that Karl commands down there when he's available is something that Dario can have more space to work. He's able to be put in long closeouts where guys are flying at him, and he's able to drive the ball, and then him getting to the post as well."
To say it's been effective would be an understatement, even after Towns suffered a concussion that's kept him out over the past two games. In February, Saric is shooting an absurd 50.7 percent from the field, 58.8 percent on 3-pointers and 87.5 percent from the free throw line, reflecting a defensive change in approach by the league toward Saric. Sometimes defenders are coming right at him on the catch beyond the arc, as usual, but other times they are staying home nearer to the basket, as Luke Kornet did on several occasions Friday night, giving Saric something unthinkable in past seasons: a look at a wide-open 3.
"Of course you make some 3s, of course, you know they give you open road," Saric said. "Guys have really tried to block your shot, to make you dribble the ball. But after that, when you dribble the ball, the whole place is open. And you've got a lot of space to make decisions, pass to players, or to finish and I really like it."
It shows in ways that extend beyond his shooting efficiency itself. Saric is up to 1.392 points per possession, per Synergy, as the screener in the pick-and-roll man, which is actually his most effective offensive subset. Most of that has come under Saunders, who has utilized the two-man game with Saric and Towns often, leading to 51 such possessions already this season. That's 12 percent of Saric's total possessions in 2018-19 since arriving in Minnesota. He'd accumulated 51 total possessions in that role with Philadelphia all of last season, representing a tiny fraction of his work in Brett Brown's offense.
All of which means that Saric increasingly represents a duality that the best teams need: he can carry an offense as needed, while his skills interact well with those of the team's heartbeat in Towns.
So it went on Friday night in New York: he worked seamlessly with Taj Gibson, a very different player than Towns, scoring 13 points in 23 minutes in an easy win.
"Just being in practice, he's extremely talented," Gibson said of Saric. "He can give you a 40-point game. That's how talented he is. And tonight, is one of those games. You're trying to get in a rhythm. He had a bunch of good shots, a bunch of good looks, but the next couple games, I feel that his offense is gonna pick up even more."
Saric said that in the past, Towns seemed more comfortable with Gibson next to him, since Gibson's more traditional post game allowed Towns to roam free. Now, though? Saric is capable of setting up in the paint as well, or attacking off the dribble. He's taking the largest percentage of shots of his career inside three feet since coming to Minnesota, and making them at a 66.4 percent clip.
Between this evolution and Saric's continued versatility at the defensive end — a 0.814 defensive points per possession in 2018-19, per Synergy, good for sixth in the NBA among 244 with at least 300 defensive possessions, facing wings and bigs alike — the longer road is visible. The reliable veteran Gibson is a free agent. But Saric, still all of 24, isn't even eligible for restricted free agency until after the 2019-20 season.
Whatever aspirations the Timberwolves have to make the playoffs — and they are just four games out of the tie between the Clippers and Spurs for the Western Conference's final two spots — the most value the franchise can extract out of the final 23 games of the season, once Towns returns, is to keep on maximizing the way Towns and Saric play together, determining whether the Saric surge is a statistical blip or for real.
To Saunders, though, it sounds like the question is settled.
"He'll keep evolving," Saunders said. "We're obviously happy that's he's with us and part of our plans for the future. We think he's a perfect compliment next to Karl."