Everything you need to know about Andrew Luck retiring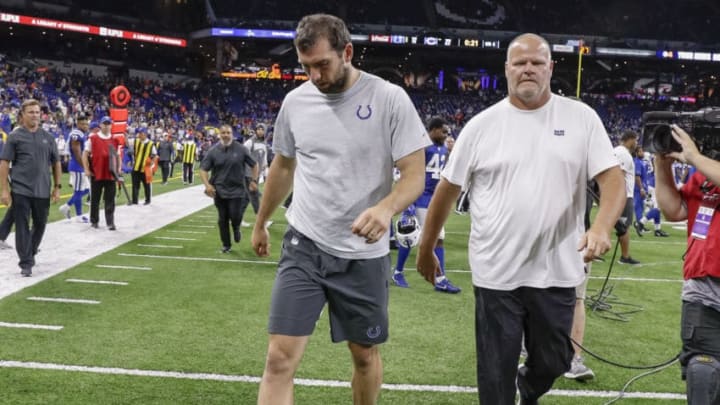 INDIANAPOLIS, IN - AUGUST 24: Andrew Luck #12 of the Indianapolis Colts walks off the field following reports of his retirement from the NFL after the preseason game against the Chicago Bears at Lucas Oil Stadium on August 24, 2019 in Indianapolis, Indiana. (Photo by Michael Hickey/Getty Images) /
Andrew Luck shocked the football world on Saturday night by abruptly retiring.
Let's spare the hyperbole: Nothing like Andrew Luck retiring has ever happened before.
It's not just that  Luck is retiring, nor is it even how he retired — it's the context of what Luck was supposed to be and what he ended up being that makes news of his retirement so rattling. It's also the way he walked away from the game, prioritizing his mental and physical health over everything else.
This is unfathomable and unprecedented, full stop.
It needs to be said that there's nothing negative about Luck's victory too few players have been able to enjoy — the preservation of what body they have left after football grinds their bones and brains to mush. This is entirely about the shock value of watching an iconic player walk away in his prime.
Consider this: Robert Griffin III will be on an NFL roster in 2019 and Andrew Luck will be out of the league. It's impossible to articulate how impossible this seemed just two years ago, even with Luck sitting a season out with injury.
Here's everything you need to know about Andrew Luck retiring from the NFL, from the gridiron aspect to what it means for your fantasy team:
– First and foremost, good for Andrew Luck. He prioritized his mental and physical health over the cult of personality that is the NFL. There's nothing to not admire about what he's done, and that's going to be his legacy.
– It's not just Colts fans who are beside themselves over this news. The entire football world has been bone rattled by the announcement that Luck has decided to walk away from the game just two weeks before the new season is set to start.
– Not all Colts fans are taking the news well. Luck was in attendance for Indy's preseason game on Saturday night at Lucas Oil Stadium. He was booed off the field as he exited shortly after news of his retirement made the rounds.
– Colts fans are going to get very familiar with an old friend this year: Jacoby Brissett. It was Brissett who filled in for Luck when he missed all of the 2017 season, and now he'll take over as the starter once again.
– After getting booed off the field, Luck announced his retirement in the Colts locker room, thanking his teammates and coaches. He explained that the injuries simply wore him down mentally and physically.
– Where do the Colts go from here? It was just seven years ago that the team drafted Luck with the No. 1 overall pick, with the idea he'd take over where Peyton Manning left off. Now there's a massive void at quarterback in Indianapolis, and the future has never looked so uncertain.
– Luck may be gone, and the aftershock will linger well into the regular season, but the games will still need to be played. Brissett will lead Frank Reich's offense and the expectation remains to make the playoffs just as it was when Luck was still in the picture. Whether or not that happens remains to be seen.
– This news has obvious ripple effects in terms of things that will happen on the field. But the ripples extend to the world of fantasy football. Many fantasy footballers have already drafted their teams, and at least one team in your league has Andrew Luck on it — so now what happens?