Best memes and tweets after Aaron Rodgers and Shailene Woodley broke up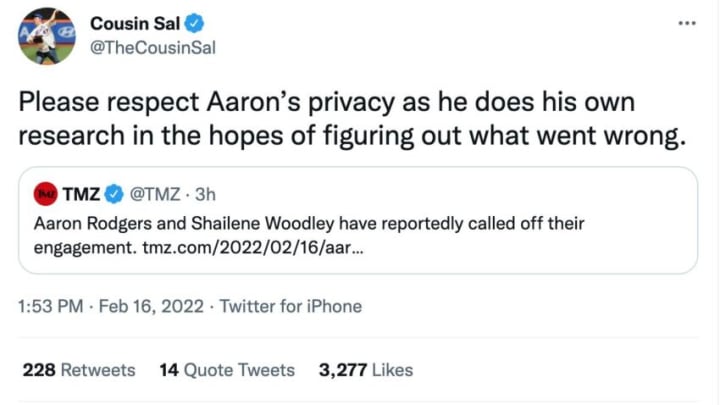 Green Bay Packers quarterback Aaron Rodgers take a loss on Twitter /
The Internet responds to the Aaron Rodgers/Shailene Woodley breakup: "The Aaron Rodgers level in the next Shailene Woodley 2k is going to be wild."
Breakups are nothing but heartbreak for those involved, but for the rest of the Internet, the dissolution of a romantic relationship often becomes the fodder of jokes.
It is sad to see that 2021 NFL MVP Aaron Rodgers and his fiancée, actress Shailene Woodley, have officially called it quits, but NFL fans are here to pile on and use the moment as an opportunity to remind the world everywhere Rodgers went wrong in the past year.
From his COVID vaccination mess to missing out again in the playoffs, Rodgers is taking L's from all corners of the web.
The best memes and tweets on Aaron Rodgers and Shailene Woodley breakup
As with any breakup, there's a clear Team Rodgers and Team Woodley, with Occupy Democrats making their stance known against the "virulent anti-vax quarterback."
Of course, there's the obligatory reference to how Rodgers is now losing out on two rings this year as he falls apart in another playoff run.
There's also the prospect of an Aaron Rodgers level in Shailene Woodley 2K22. In the upcoming edition, Shailene could enter "Woodley mode" when facing a Rodgers-themed boss. The possibilities are endless.
Another hallmark of Rodgers' 2021 season was his COVID-19 debacle and the medical advice he sought from Joe Rogan.
Even though Woodley publicly supported Rodgers last fall, the vaccination connections stretched on.
Then, a painful reference to the fact that Shailene's estrangement from Rodgers resembles his own estrangement from his family, which has been whispered about for years.
One tweet addressed the notion that the breakup was the result of Woodley wanting direction in where the couple spent their future as Rodgers contemplates other franchises.
In Touch Weekly reported that Rodgers "put football first," which ultimately strained their relationship. Breakup rumors have been circulating since December, although Rodgers acknowledged their engagement in his 2021 NFL MVP award acceptance speech.
For now, Woodley can treat herself to a little extra clay as both mend post-breakup heartbreak.