College baseball rankings: FanSided Top 25 – Mississippi State, Vanderbilt stumble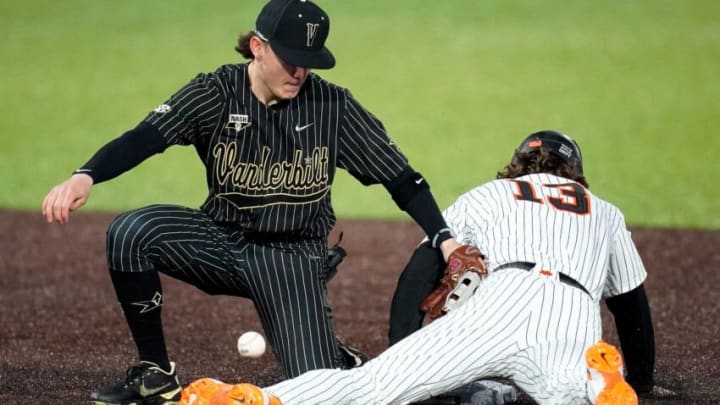 Oklahoma State right fielder Nolan McLean (13) steals second under Vanderbilt shortstop Carter Young (9) during the fourth inning at Hawkins Field in Nashville, Tenn., Friday, Feb. 18, 2022.Vandy Os Bb 021822 An 016 /
With a chaotic and thrilling opening weekend behind us, the college baseball season is off to a hot start. Here's how that impacts the top 25.
Well, if the opening weekend is any indication of what happens for the rest of the season, there won't be any shortage of excitement for college baseball in 2022.
Based off the results we have so far, expect upsets and chaos galore.
The two teams that were contending for the national championship last season both had less-than-stellar weekends. That's right, the Mississippi State Bulldogs, the defending national champs, and the Vanderbilt Commodores, the second-best team in 2021, both lost their 2022 season-opening series.
They weren't the only ones to suffer some significant losses though. Arkansas got shocked in its first game, losing to Illinois State. The Nebraska Cornhuskers lost three of four to Sam Houston State. Liberty upended Florida twice. Louisiana knocked down UC Irvine.
It was a wild weekend and definitely one worth watching.
Here's how the college baseball rankings look after the opening weekend.
College baseball rankings: FanSided Top 25
Texas
Oklahoma State
LSU
Arkansas
North Carolina State
Ole Miss
Long Beach State
Vanderbilt
Mississippi State
Notre Dame
Arizona
Stanford
Florida State
Florida
Texas Tech
Virginia
Tennessee
Oregon State
Liberty
TCU
Georgia
Louisiana
UCLA
Miami
Dallas Baptist
Dropped out: East Carolina, UC Irvine, Nebraska
To check the preseason rankings, click here.
NCAA baseball rankings: Teams on the rise
Long Beach State Dirtbags
It's not easy to go into Dudy Noble Field as a visiting, non-conference foe and come out with a win, let alone a series victory over Mississippi State. Long Beach State is the first to do so since 2015. The Dirtbags flat out looked solid up until game three, which is when the Bulldogs definitely appeared as if they came to life.
Oklahoma State Cowboys
As is custom with anyone visiting Nashville, you're going to have a ton of fun if you're even tangentially connected to cowboy culture. The Oklahoma State Cowboys went into Hawkins Field and walked away with two wins over the Commodores in what was arguably the most entertaining series of the weekend.
Others worth noting: Arizona, Liberty, Louisiana
NCAA baseball rankings: Teams moving down
Mississippi State Bulldogs
It's important not to read too much into early season results, but it's hard not to ignore what happened in Starkville. The Bulldogs were very soundly beaten in the first two games of this series. Long Beach State looks like a very good team and Mississippi State just looked flat for the first couple games. That definitely changed by game three though.
Vanderbilt Commodores
There is no shame in losing an opening series to a team that could conceivably end up in Omaha. Vanderbilt played admirably and the Commodores looked solid. They just happened to get beat by an Oklahoma State team that might make it to the College World Series this year. With what the Commodores lost from a season ago, this loss is understandable.
Others worth noting: Texas Tech, Florida, Nebraska
For more NCAA softball or NCAA baseball news, analysis, opinion and unique coverage by FanSided click the links and bookmark these pages.