The surf camp bringing displaced Ukrainian families to the ocean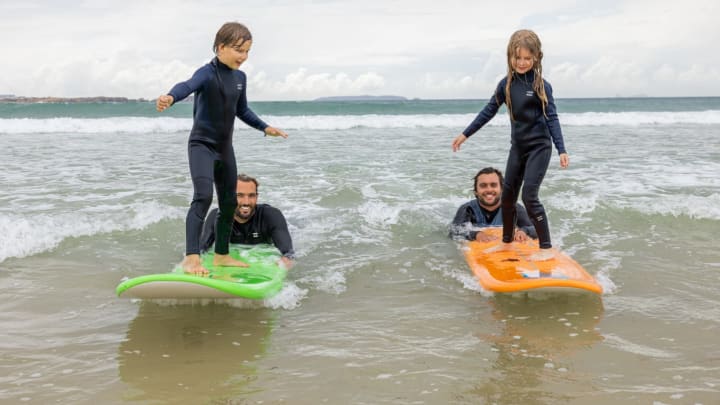 The Good Days Family Surf Camp is using surfing to heal and support Ukrainian children escaping the horrors of war.
Like many others, Kshisya Tachanskaya's life completely changed when Russia began its attacks on Ukraine. More than 12 million people have been forced from their homes since the war began. But after she fled, she wanted to help. So she started a free surf camp in Portugal, in an attempt to share the ocean's healing with as many displaced Ukrainian families as possible.
For the past five years, Kshisya had been embedded in the Ukrainian surf community, organizing international surf trips for families alongside Vasiliy Kordysh, the President of the Ukrainian Surfing Federation. The goal was to get more Ukrainians into surfing, and surf trips to locations with warmer, milder climates and mellow breaks provided an accessible entry to surfing compared to the colder temperatures and harsher surfing conditions from the wind swells that form in the Black Sea.
Then in 2021, Kshisya started Good Days Family Surf Camp in Baleal, Portugal. The sandy island village has been a mecca for surf tourism for over 20 years, boasting beginner-friendly breaks like the mellow reef break of Lagide as well as miles of open beach break providing plenty of space for novice surfers to practice their turns.
"It was incredible because I saw the positive effects that surfing and being in nature had on both the children and adults at our camp," Kshisya told FanSided. "The children arrived with their gadgets on the first day and were glued to their screens. But as soon as the surf camp program began, they forgot about their screens and fully embraced surfing."
Photo Credit: Camp Good Days Family Surf Camp /
"Nowadays, children are inseparable from technology. But you can't bring your devices with you into the water. When you surf, you can momentarily forget the past and just be in the present moment. You can also meet like-minded people, and build relationships with those around you."
As 2022 began, Kshisya had set her sights on organizing more surf camps in Portugal for Ukrainian families. But that all changed at 4:30 a.m. on the morning of Feb. 24, 2022. Kshisya woke up in her family's apartment in the center of Kyiv to the sound of her windows shaking. The first Russian rocket had landed close to her home, signaling the beginning of a war that would uproot her family's lives.
"It was probably the worst time of my life," said Kshisya. "We watched as rockets fell from the sky, and we quickly realized that we weren't safe in our own home. We woke up our two children, grabbed a couple of bags of clothes and drove for 25 hours until we finally arrived in the West of the country."
After realizing that the situation was escalating further, Kshisya and her daughter, Evdokia, 7, and son, Kornii, 11, drove for five days across mainland Europe into Portugal, while her husband remained behind in Ukraine to help defend their country.
"When we arrived in Baleal, we had nothing," said Kshisya. "But I told my children to go and jump in the ocean. The kids arrived feeling devastated by war, but after surfing, the water had lifted their spirits."
Photo Credit: Camp Good Days Family Surf Camp /
"My husband was helping to defend our home, and I couldn't just sit around in Portugal and wait for the war to end, I knew I needed to help however I could. So, I decided to organize free surf camps for families, for anyone fleeing who might be feeling afraid to come and heal by spending time in the ocean."
Having spent the past five seasons organizing surf camps, Kshisya was already familiar with the area. So started a charity foundation, and posted a video online describing her plans to help people through the power of surfing. Devastated by what they had seen on the news, many people took to social media, spotted her video, and felt compelled to help, resulting in donations from people all over the world that wanted to help support her efforts. With these donations, Kshisya was able to organize the first-ever free surf camp for Ukrainian refugee families.
"I know how it feels to lose everything from war, because it happened to my family, too," says Kshisya. "I just wanted to help the families that had fled Ukraine find their community. To make friends in the lineup and connect with nature. All of us have lost something. But we're still here, and surfing in the ocean can help us regain the strength to keep going."
The first seven-day surf camp welcomed 16 Ukrainian children and their parents, complete with accommodation, daily meals and a full itinerary of surfing, beach clean-ups, art classes and a visit to a local surfboard shaper. For a few brief hours each day, these families had the opportunity to break away from their thoughts of what had been taken from them and escape within blissful moments of catching and riding waves along the Portuguese coastline.
"When the children arrived on the first day, it was hard," says Kshisya. "These kids had escaped war, and had experienced heavy things, and I wasn't sure if we would be able to help them. But after the first day of surfing, they began to smile. It was like the heavy weight was lifted. They separated themselves from their phones and the news of war. Instead, we filled their days with surfing, creating art, cleaning up beaches and learning to take care of the ocean. We switched their attention, and surfing helped them feel joy again."
After a first successful camp, Kshisya organized more surf camps so that more Ukrainian refugee children could benefit. Billabong Europe learned about what she had been doing and offered to collaborate. Together, they organized an International Surfing Day for over 40 Ukrainian families. Billabong even invited Championship Tour alumni and surfing Olympian, Frederico Morais to help teach the kids how to surf. Kshisya continues to organize more surf camps for Ukrainian refugees.
"Thanks to posting about our surf camp on social media, I've found a lot of support in the surf community. So many people have opened their hearts to our people and donated to help us. It really means everything."
Photo Credit: Camp Good Days Family Surf Camp /
Through the generous help of people around the world that have donated to support Good Days Surf Camp, Kshisya has created a safe haven for Ukrainian families to speak their mother tongue, connect with one another and heal from the trauma of war. Meanwhile, back in Ukraine, the situation remains volatile.
"Many people at home live a new reality, where sirens and bombs are part of everyday life. Rockets continue to target populated areas in Ukraine, and many civilians continue to die because of this war. When you know what's happening over there, it's hard to live with it."
Much like her husband, who is defending their country within its borders, Kshisya has dedicated herself to helping however she can from 2,500 miles away. She plans to continue to help refugee families for as long as she can.
"I've had hundreds of applications from Ukrainian refugees to attend our surf camps. So the more support we receive, the more people we can help. I believe that nature is a powerful healer, and when you do good things, good things come back to you. Two Ukrainian friends helped me organize the surf camps, and we have seen how the joy of surfing can briefly help someone forget what is happening at home. We all need good days."
Why We Play features stories about the power of sports to bring us together, overcome obstacles, make positive change and reach everyone. Read more here.
If you'd like more information on Good Days Surf Camp, please visit their website.