Utah band's Rose Bowl rendition of Green Day's Basket Case was god-tiered Dookie excellence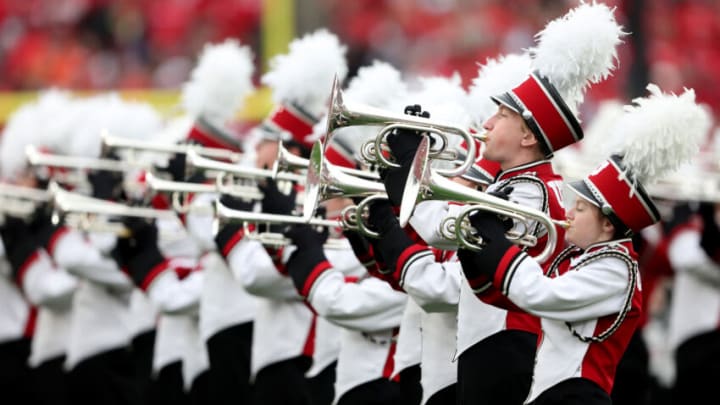 Utah Utes. (Photo by Sean M. Haffey/Getty Images) /
The Utah marching band kicked so much brass playing Green Day's "Basket Case" at the Rose Bowl.
Do you have the time to listen to Utah whine?
This year's Rose Bowl was about nothing and everything all at once. As one of those melodramatic fools that is neurotic to the bone, no doubt about out it, sometimes, I give myself the creeps when I think my mind plays tricks on me. As the score keeps adding up, I think I'm cracking up. I'm not just paranoid, I'm just
stoned
blown away by how freaking awesome this Green Day cover was!
Behold! The Utah band playing Green Day's "Basket Case" to simply god-tiered Dookie excellence.
Utah marching band plays Green Day's "Basket Case" during Rose Bowl halftime
When Billie Joe, Mike and Tre wrote this song in between Northern Californian Green Days in the mid-1990s, they had no idea they had created a diamond-encrusted sonic masterpiece. Yeah, the album title was mostly crap, but the Bay Area trio changed the game almost as much as the three guys from Aberdeen. Come as you are to the Rose Bowl, but welcome to college football paradise!
As she screams in silence about the outcome of the Cotton Bowl, you know where we'll be found when you come around. I may be having a blast about the Dawgs being on top, but you can call me a chump if they lose to TCU next Monday night. As it is with anything, it serves you to take the long-viewed approach. Coming clean is never easy, but in the end, you will not be all by yourself.
Buhler, please F.O.D. I am so burnt out on all these Green Day puns. It is literally Anastasia Pulling Teeth to get through the rest of this article. I am better served roaming 'round the house than letting you waste my time. Can I waste your time, too? It wasn't long ago that I was just like you. Now I think I'm sick and I wanna go home. Like Pearl Jam, why go home? You're at the Rose Bowl!
Even if Utah loses back-to-back Rose Bowls, it's all about the Utes dropping some Dookie on us!
For more College Football news, analysis, opinion and unique coverage by FanSided, including Heisman Trophy and College Football Playoff rankings, be sure to bookmark these pages.