Los Angeles Country Club scorecard: What is par, major history, cost to play and more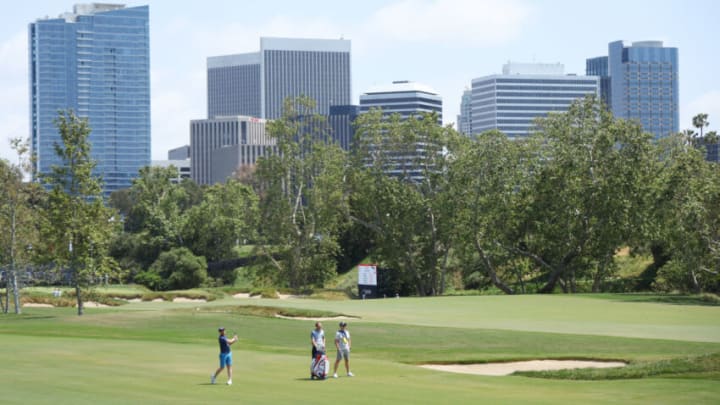 LOS ANGELES, CALIFORNIA - JUNE 13: David Horsey of England plays a shot during a practice round prior to the 123rd U.S. Open Championship at The Los Angeles Country Club on June 13, 2023 in Los Angeles, California. (Photo by Andrew Redington/Getty Images) /
Los Angeles Country Club scorecard, a look at par for the course, LACC's major history, how much it costs to play and more for the 2023 US Open venue. 
The 2023 US Open is here and we're going to the secretive and elusive Los Angeles Country Club. Unlike Oak Hill for the PGA Championship, Royal Liverpool for The Open Championship or, obviously, Augusta National for The Masters in this year's major championships, the fact of the matter is that even the most ardent golf fans aren't particularly familiar with LACC.
As we head into Father's Day weekend for the third major of the year at the 2023 US Open, that obviously means there is a bit of mystery about Los Angeles Country Club. And many of the golf fans watching the action this week as the likes of Scottie Scheffler, Brooks Koepka and Rory McIlroy, among many others, compete for major glory have to be wondering about the course.
So to help guide your 2023 US Open experience, let's take a look at the Los Angeles Country Club scorecard with a look at what par is for the North Course, how much it would cost to play, and more for this year's venue at the USGA's flagship event.
US Open: What is par at Los Angeles Country Club?
The North Course at LACC will be playing as a Par 70 for the 2023 US Open. This will be the second-straight major championship this season that will offer a Par 70 test for the players. At 7,423 yards with the course routed to where the prevailing winds will have some holes playing downwind and others playing into the wind, it should be a demanding test, especially with the positional test that is demanded from the track.
Los Angeles Country Club scorecard: Hole names, yardages, par for US Open
There are some fantastic stretches on the Los Angeles Country Club scorecard for the 2023 US Open with a Par 3 (No. 11) measuring like a short Par 4 at 290 yards while there is plenty of deception in the Gil Hanse work around the North Course. But here's a look at the LACC scorecard with a hole-by-hole breakdown of par and yardages.
Hole No. 1 – Par 5, 578 yards
Hole No. 2 – Par 4, 491 yards
Hole No. 3 – Par 4, 419 yards
Hole No. 4 – Par 3, 228 yards
Hole No. 5 – Par 4, 480 yards
Hole No. 6 – Par 4, 330 yards
Hole No. 7 – Par 3, 284 yards
Hole No. 8 – Par 5, 547 yards
Hole No. 9 – Par 3, 171 yards
OUT: Par 35 – 3,536 yards
Hole No. 10 – Par 4, 409 yards
Hole No. 11 – Par 3, 290 yards
Hole No. 12 – Par 4, 380 yards
Hole No. 13 – Par 4, 507 yards
Hole No. 14 – Par 5, 623 yards
Hole No. 15 – Par 3, 124 yards
Hole No. 16 – Par 4, 543 yards
Hole No. 17 – Par 4, 520 yards
Hole No. 18 – Par 4, 493 yards
IN: Par 35 – 3,887 yards
TOTAL: Par 70 – 7,423 yards
LACC promises a fantastic finish with a diabolical short Par 3 on the 15th hole before going into three longer Par 4 holes into the clubhouse, all of which should offer a great test for the players and go a long way into determining the 2023 US Open champion.
LACC history: Has Los Angeles Country Club ever hosted a major championship before?
Opened in its full status in 1911 after being established in 1897, Los Angeles Country Club will be hosting its first-ever major championship at the 2023 US Open. Having said that, it does have some ties to the PGA Tour and the golf world at large.
The Los Angeles Open was played at LACC in 1926, 1934-36 and 1940. In the modern game, though, the course was the host of the 2017 Walker Cup in a showcase of the best amateurs in the world, a tournament that featured the likes of Scottie Scheffler, Collin Morikawa, Will Zalatoris and Robert MacIntyre in competition.
How much is a membership at Los Angeles Country Club?
LACC is one of the most exclusive golf clubs in the United States and the price to join as a member backs that up. Membership initiation fees at Los Angeles Country Club can range from $300K to $500K, and that's before you get into the annual dues for being a member, which are in the $20K-30K range.
More so than even the price, though, just getting a chance to be a member at LACC is difficult in itself. To become a member, you must get an invitation from members and also be guided through the entirety of the process by members as well. Additionally, once you are a member, there are strict rules that limit the information about the club and golf course that can be shared in virtually any capacity.
How much does it cost to play Los Angeles Country Club?
If you are so lucky as to become a member at the exclusive club or to somehow get on to play the North Course as a guest, the green fees aren't to bad. The cost to play LACC is in the range of $100-$140, which isn't too bad considering the massive price tag to join the membership at the exclusive club.
For more from The PGA Tour, US Open, Ryder Cup and more, make sure to follow FanSided and stay tuned to our golf hub for all the latest news and results.