Overwatch League Stage 3: What to watch for when play resumes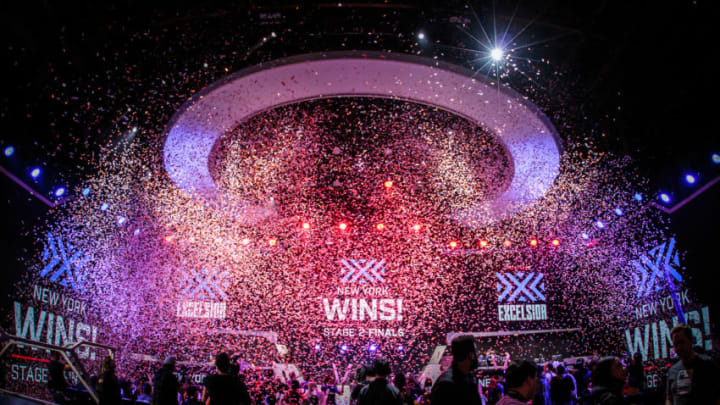 2018-03-25 / Photo: Robert Paul for Blizzard Entertainment /
Catch up on everything Overwatch League before the start of Stage 3.
Now that 10 weeks of the league have passed, clear titans have emerged among the inaugural 12 teams of the Overwatch League.
Accustomed to the spot at the top, the New York Excelsior finally claimed a stage championship after the London Spitfire stole that title away at the end of Stage 1. The Spitfire certainly tried to make a play for it again in Stage 2, but this time they were edged out of the final match by the Philadelphia Fusion.
The Fusion's rise to the top three was gradual but well earned. It started with an accumulation of 4-0 clean sweeps and was cemented by a couple key, hard-fought victories. Along the way, Philadelphia did suffer lopsided losses to London, New York and Seoul, but found themselves in the playoffs after Seoul once again failed to acquire enough map wins to make the top three.
And while Philadelphia may have barely made the cut, they proved they deserved their playoff spot by knocking off London 3-2, a team who had crushed them 4-0 earlier in the stage. In fact, the Fusion came out to a 2-0 lead in the final match against the Excelsior. But the New York train simply could not be denied.
With a new stage comes a fresh chance for each of the 12 teams to try and position themselves as the new top three. With new players, player trades and player debuts to account for, Stage 3 could be a shake up of what the league has gotten used to.
Stage 2 final standings
(Note: Teams with the same record are ranked secondarily by individual map wins and losses.)
New York Excelsior (9-1)
London Spitfire (8-2)
Philadelphia Fusion (7-3)
Seoul Dynasty (7-3)
Los Angeles Gladiators (6-4)
Boston Uprising (6-4)
Houston Outlaws (5-5)
Los Angeles Valiant (4-6)
San Francisco Shock (3-7)
Florida Mayhem (3-7)
Dallas Fuel (2-8)
Shanghai Dragons (0-10)
Overall league standings
New York Excelsior (18-2)
London Spitfire (15-5)
Seoul Dynasty (14-6)
Philadelphia Fusion (13-7)
Houston Outlaws (12-8)
Boston Uprising (12-8)
Los Angeles Valiant (11-9)
Los Angeles Gladiators (10-10)
San Francisco Shock (6-14)
Dallas Fuel (5-15)
Florida Mayhem (4-16)
Shanghai Dragons (0-20)
Stage 3: New players by team
Dallas Fuel: Unkoe (Support, previously on Los Angeles Valiant)
Los Angeles Gladiators: silkthread (Offense, previously on Los Angeles Valiant), Void (Tank)
Los Angeles Valiant: Bunny (Offense, previously on Seoul Dynasty), Custa (Support, previously on Dallas Fuel)
Houston Outlaws: Arhan (Offense)
San Francisco Shock: Architect (Offense)
Stage 3 maps
Volskaya Industries
Temple of Anubis
Blizzard World
Numbani
Ilios
Nepal
Junkertown
Route 66
Stage 3 playoff changes
The top four teams at the end of the stage will now participate in a playoff bracket. The top-seeded team will no longer have a first-round bye. Instead, they will get to select their first-round opponent.
This new playoff system will add one game to slate of games played on Sunday after the last day of regular stage matches. It also adds an extra chance for drama, as the top seed is now no longer guaranteed a spot in the finals.
Next: Overwatch League Stage 2 recap: NY Excelsior grind out victory over Seoul Dynasty
Stage 3, Week 1: Notable matches
Maybe you're just starting to watch the Overwatch League and are looking for a place to start. Or perhaps you simply don't have time to watch every single match and are looking for the ones that will be worth your time. Whatever your situation is, here are the matches during the first week of the stage that you should pay attention to:
April 4, 4 p.m. PST — Shanghai Dragons vs. Dallas Fuel: There's a good chance the struggling Dragons will debut several of their brand new players, including the much-anticipated first female Overwatch League player Geguri, in their stage opener. And while this new team roster may not nab the team their first win right away, Shanghai has a fair shot since Dallas has had their own fair share of struggles over the past two stages. There's a chance the only winless team in the league will get their first win right here.
April 4, 8 p.m. PST — San Francisco Shock vs. Los Angeles Gladiators: San Francisco has had two dynamite players sitting on the sidelines, just waiting until they turned 18 to become eligible to play in the league. Sinatraa was able to play a couple matches in Stage 2, but now he will be joined by super, a highly anticipated tank that may just change the Shock's entire trajectory. In their way is an on-the-rise Los Angeles Gladiators team, looking to make super's debut a disappointing one as they continue to improve.
April 7, 5 p.m. PST — New York Excelsior vs. London Spitfire: We highlighted this match last time, and we will highlight it again. In fact, we will highlight it every single time these two teams pop up on the schedule because every time they meet we're rewarded with some of the best, most high-level Overwatch play the world has ever seen. Whether you're new to the sport or a veteran, make time for this match.
The third act of the Overwatch League starts April 4 at 4:00 p.m. PST. Catch all the action on the Overwatch League's Twitch channel or on the Overwatch League website.